More Disney favorites come to DVD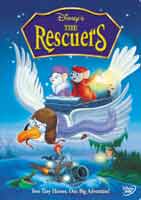 Two family favorites are coming to DVD as special editions from Buena Vista Home Entertainment later this year, the film that made the VW bug famous The Love Bug and the hip mouse duo The Rescuers. Both will be getting two disc special editions later in the year.
In "The Rescuers", join the shy but brave mouse Bernard (Bob Newhart) and his glamorous partner Miss Bianca (Eva Gabor) – two tiny heroes on a great big mission to save Penny, a young girl who has sent an urgent call for help. Taking off on the wings of the albatross Orville, together they soar to the marshy swamp of Devil's Bayou. There, they find themselves on the riverboat hideout of the hilariously evil Madame Medusa, who wants to use Penny to steal the world's largest diamond!
The DVD comes in anamorphic widescreen with audio in Dolby Digital 5.1. Extras include "The Ultimate Case" Set-Top Detective Game, the short film "Water Birds", The Rescuers Scrapbook, the featurette, "Under The Hat Villains", the Silly Symphony Three Blind Mouseketeers and a sing along for the song "Someone's Waiting For You".
Jim Douglas down-on-his luck race car driver, who reluctantly teams up with
the little machine. Douglas thinks his sudden winning streak is due to his skill, not
Herbie's. He finally realizes the car's worth when a sneaky rival plots to steal Herbie for
himself.
The disc is presented in anamorphic widescreen with audio in Dolby Digital 5.1, extras include an audio commentary with Buddy Hackett, Dean Jones and Michele Lee, the animated short ,"Susie – The Little Blue Coupe", the featurettes, That Lovable Bug, The Many Lives Of Herbie, Herbie Mania,Love Bug Day At Disneyland, The Man Who Gave Herbie His Voice
and Lost Treasures: Searching For Herbie. a 1969 studio album, a production gallery, a behind the scenes promo reel, the deleted scenes Used Car Lot and Playground, a theatrical trailer, sound design, production stills, a comic book biographies, advertising materials, film documents, a screenplay excerpt and radio scripts.
Both discs will have a suggested retail price of $29.99 and both will arrive on May 20th.