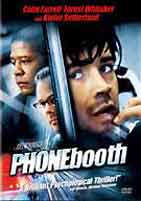 Joel Schumacher strikes again with the stationary action film Phone Booth. Although the movie is still in theaters, Twentieth Century Fox has an upcoming release date for the DVD.
What do you do when you hear a ringing public phone? You know it's a wrong number, but instinct forces you to pick it up. A ringing phone demands to be answered, but when Stu Shepard takes the call, he finds himself hurtled into a tortuous game. Hang up, says the caller, and Stu's a dead man.
The DVD will contain both fullscreen and anamorphic widescreen transfers of the film and audio in Dolby Digital 5.1. An audio commentary with director Schumacher and a theatrical trailer are also included.
The suggested retail price is $27.95 for the disc which will debut on July 8th.