Tempe releases the controversial Townies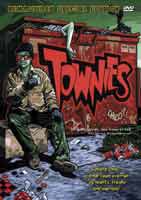 Tempe Entertainment and Lurid Entertainment present a film self described as a magnum opus of cinetrash. Townies will get a fairly extensive special edition.
Welcome to Schlarb, Ohio…a small town overrun by misfits, freaks and weirdos! Dickie is a lonely dumpster-diver who finds companionship in his latest discovery…a young woman's corpse! Pricey is a mute girl with a lookalike baby-doll. When she loses her doll after an unsavory encounter, she replaces it with the next best thing — her neighbor's young son! Meanwhile, the enigmatic Caduceus sets out to cleanse a nasty high school girl of her wicked ways. Scenes to follow include necrophilia, marijuana-smoking lesbians, the sexual assault of a mentally-challenged girl and a dinner plate of skinned and cooked squirrels — not for the weak!
In addition to the film, presented in fullscreen and mono, the disc will contain an audio commentary with filmmaker Wayne A. Harold and star Toby Radloff, outtakes & behind-the-scenes, a "Toby Radloff, Genuine Nerd" bonus interview, web segments, the original trailer, the "Payback is a Bitch" short film written & co-directed by Harold, and a preview of the upcoming "Aberration Boulevard" and a still gallery.
The DVD will be coming on May 27th and will have a suggested retail price of $19.99.