Soylent Green is coming to DVD… to DVD!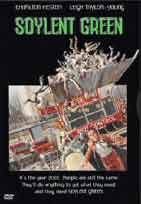 The film, and its catchphrases have become integrated into the American psyche, but not that many people have actually seen the Charlton Heston sci-fi landmark Soylent Green. The film and all its twists are coming to DVD this summer from Warner Brothers Home Entertainment.
It is the year 2022. Overcrowding, pollution, and resource depletion have reduced society's leaders to finding food for the teeming masses. The answer is Soylent Green — an artificial nourishment whose actual ingredients are not known by the public. Thorn is the tough homicide detective who stumbles onto the secret so terrifying no one would dare believe him.
An anamorphic widescreen transfer will be mixed with the original mono soundtrack. No extras have been announced, but may still be coming.
Coming August 5th, the DVD will have a suggested retail price of $19.98.