More details on The Two Towers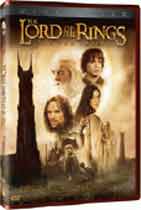 Some more detailed information has come in on the upcoming two disc release of Lord of the Rings: The Two Towers from New Line Home Entertainment.
Both the fullscreen and anamorphic widescreen versions will contain Dolby Digital EX 5.1 sound. The second disc will contain the two documentaries On the Set – The Lord of the Rings: The Towers and Return to Middle-earth. The short film by Sean Astin and the making of the film. The previously mentioned featurettes will be Forces of Darkness, Designing the Sounds of Middle-earth, Edoras: The Rohan Capital, Creatures of Middle-earth, Gandalf the White, Arms and Armor, The Battle of Helm's Deep, Bringing Gollum to Life. The other previously announced features include a music video, and previews of the game and upcoming four disc set.