Manga encourages viewers to Read or Die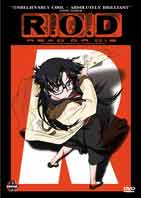 Manga Entertainment is getting ready to release the age old combination of reading and evil scientists. Read or Die makes its DVD debut this spring.
A sinister plot is afoot and only one young school teacher with an overdeveloped affinity for literature can stop it – Ms. Yomiko Readman … better know to her colleagues in Section A of Library Special Operations as "Agent Paper." It seems someone is bent upon procuring several rare volumes of a lost Beethoven text and has somehow enlisted a few of history's most extraordinary ladies and gentlemen to aid in the endeavor. From the banks of the Ganges to the burgeoning book stalls of Tokyo, Ms. Readman and her fellow super-powered operatives must tangle with the likes of Tokugawa-era scientist Gennai Hiraga, aviation pioneer Otto Lilienthal, and 19th century entomologist Jean-Henri Fabre in a desperate race to find the books and save the World!
Like most Manga DVDs, the disc will contain Dolby Digital 5.1 in English and Dolby Surround 2.0 Japanese Audio with optional English subtitles, an original trailer, historical biographies, a photo gallery, director & crew interviews, a free poster and fan club info.
On May 27th, the reading becomes fundamental. A suggested retail price of $29.95 comes with the disc.