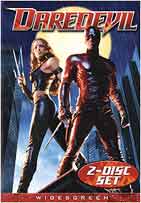 Twentieth Century Fox is ready for Daredevil, coming this summer as a well loaded DVD.
For Daredevil, justice is blind, and for the guilty…there's hell to pay! By day, blind attorney Matt Murdock toils for justice in Hell's Kitchen. by night, he's Daredevil, the man without fear – a powerful, masked vigilante stalking the streets with an uncanny "radar sense" that allows him to "see" with superhuman capabilities. But when the love of his life, fiery Electra Natchios is targeted by New York City's ruthless Kingpin of Crime and his deadly assassin Bullseye, Daredevil may be about to meet his match.
The new two disc set features the film on disc one with an anamorphic widescreen and audio in Dolby Digital 5.1 and DTS 5.1. An audio commentery with Mark Steven Johnson and Gary Foster, a text commentary, six multi-angle studies, a visually impaired track and DVD-ROM content. Disc two contains the "Beyond Hell's Kitchen: Making Daredevil" documentary with enhanced or unenhanced viewing modes, the featurettes "The Men Without Fear: The Art Of Daredevil" and "Daredevil: HBO First Look", a Daredevil #1 virtual comic book, the "Shadow World" featurette, character bios, the music videos "Won't Back Down" by Fuel, "For You" by The Calling and "Bring Me To Life" by Evanscence, Jennifer Garner's screen test, a still gallery, trailers and the full-length screenplay.
Priced at $29.99, the man with no fear comes to DVD on July 29th.