Cowboy Bebop goes to the big screen and back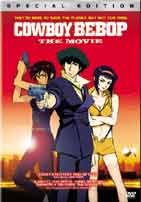 Just released for a limited theatrical run, Cowboy Bebop leaps from the popular Cartoon Network cartoon to the big screen after its successful run in Japan in 2001. The DVD is already on track from Columbia TriStar Home Entertainment.
Based on the popular TV series airing on the Cartoon Network. Mars is under siege! Just before Halloween, 2071, a terrorist bomb destroys a tanker truck on Highway One, close to a densely populated city. There are casualties up to half a mile from the blast — 500 killed or injured by what appears to be a biochemical weapon. The rewards for the bomber's capture is massive and there are 4 humans and a dog who really need the money. Down on their luck as usual, the crew of the Bebop get on the case.
The movie will be presented in anamorphic widescreen with Dolby Digital 5.1 in both English and Japanese with optional English subtitles. Several featurettes are on board including "International Appeal – What's Not to Like?", "Spike: A Complex Soul", "Faye: Intellectual Vixen", "Ed: Resident Eccentric" and "Jet: No Ordinary Dad". Also included are character profiles, the music videos, "Ask DNA" and "Gotta Knock A Little Harder", conceptual art galleries, four storyboard comparisons and theatrical trailers.
With a list price of $26.95, the DVD will be released on June 24th.