The Lion King goes platinum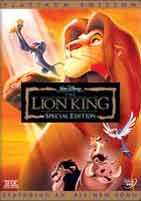 Official word has come from Buena Vista Home Entertainment about the long-anticipated next installment in the Platinum Collection, the 1994 box office breaker The Lion King.
The new two disc set is a mixed blessing for many.
The extra features are many including the featurette "The Making of The Morning Report", three deleted scenes, a music video, a sing-along track and four set-top interactive games. Disc two contains the additional featurettes "Disney Animals" hosted by Roy Disney, "Storymaking Magic", "Character design", "Computer Design", "African Art Inspiration" and "The Broadway Musical", interviews with Julie Taymor, Elton John and Tim Rice, a "Virtual Safari" with your tour guides Timon and Pumbaa, still galleries and additional music videos. Although not announced, a trailer is also likely.
As to the film proper, it will be presented in anamorphic widescreen with audio in Dolby Digital 5.1 and DTS 5.1. Like Beauty and the Beast before it, The Lion King will use seamless branching to include both the original theatrical version and the new version including the song The Morning Report which should please both film purists and those who want something new. But in Disney's ongoing quest to leave no film unaltered, at least one, if not both versions of the film will be "enhanced" with redrawn characters with more facial details and enhanced backgrounds with more color saturation.
Arriving on October 7th, and likely due to a limited release window, The Lion King will roar for $29.99.