The Jeffersons are movin' on up to season two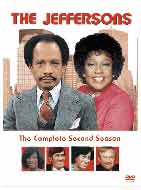 The second season of the 10 year hit The Jeffersons is making it to DVD which is good news for not only Jeffersons fans, but those hoping on the success of teleiviosn on DVD.
"The Jeffersons" chronicles the rise of jive-talking, obnoxiously egotistical African-American dry cleaner king George Jefferson and his sassy, no-nonsense wife
Louise as they leave their blue-collar neighborhood, "movin' on up" to a luxury high-rise apartment in on the posh east side of Manhattan. Thinking that this is the beginning of the "easy life," George is ill prepared for the unacceptable pitfalls his new address will bring him and his family.
The set will contain all 24 episodes from the second season in the original fullscreen, but like the first set, no extra features will be included in the set.
Scheduled to hit the stores on May 13th, the set will have a suggested retail price of $29.95.