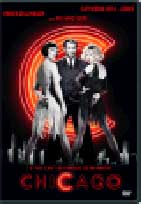 Hot off it's Oscar win for Best Picture, the musical Chicago will hit DVD this fall from Miramax Home Entertainmetn.
The Windy City's promise of adventure and opportunity dazzle Roxie Hart, an outwardly innocent performer who dreams of singing and dancing her way out of her ho-hum life. Roxie's one wish is to follow in the golden footsteps of sensational vaudeville performer Velma Kelly. Roxie gets her wish when some very wrong steps land both the star and the starlet in prison for separate murder charges. Under the crooked care of the prison's Matron Morton, Roxie meets up with legendary lawyer Billy Flynn. He agrees to take Roxie's case for an immodest fee. Roxie's career explodes to the chagrin of her mentor. But the clever Miss Kelly has a few surprises left for her second act…
The disc will contain an anamorphic widescreen transfer and Dolby Digital 5.1 sound, plus a bevy of features yet to be announced.
Arriving on August 18th, Chicago will dazzle with a suggested retail price of $29.99.