Giant news from Warner Brothers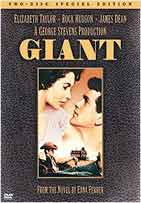 Warner Brothers Home Entertainment has been teasing us with the promise of the Rock Hudson, James Dean film Giant. Now it looks like the wait is almost over as Warner announces a release date for the film later this summer.
Very few details are available on which features will or will not be included, or how close the release will be to the extremely limited Canadian release. But the film will be presented in fullscreen and in mono. The release will be a 2-disc special edition.
The set will be $26.99 and the release will be on June 10th.