Superman moves into a bigger box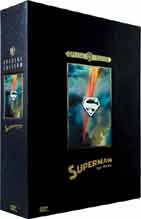 Creative Design has set their sights on a new film to join their special edition club; Superman: The Movie. The 1978 film will get the upgrade later this year.
Like all Creative Design boxes, the set will include the existing DVD of the film with no extra features. The set will however include eight limited edition lobby card prints, a film senitype, the one-sheet movie poster and a commemorative booklet.
With the always hefty Creative Design retail price of $79.99, the set with all the goodies will be available next week on February 25th.