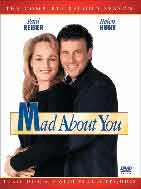 Columbia TriStar Home Entertainment is apparently pleased with the sales on the first season of the NBC sitcom Mad About You on DVD as it has set into motion the second season of the show set to hit DVD this spring.
The second season features several of the series' most memorable episodes, including the guest appearance by Cyndi
Lauper, along with Andre Agassi, Christie Brinkley, Garth Brooks, Julia
Sweeney and a recurring guest role by Lisa Kudrow.
The new set, like its predecessor will contain all the episodes in fullscreen with audio in Dolby Surround and no extra features.
Priced at $39.95, the second season will show up on March 20th.