More details on The Jack Ryan Collection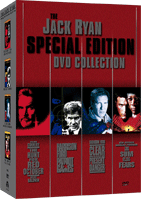 As previously announced, The Jack Ryan Collection is coming soon with re-releases of the films The Hunt For Red October, Patriot Games and Clear and Present Danger with some exciting new features. The final specs have come in and look good.
First and foremost, all three titles will for the first time have anamorphic widescreen transfers improving on the poor existing transfers. Also in addition to Dolby Digital 5.1 audio tracks will be DTS 5.1 tracks, the first DTS tracks from Paramount Home Entertainment.
"The Hunt for Red October" will also contain an audio commentary with director John McTiernan and the new featurette "Beneath the Surface" including new cast and crew interviews with Alec Baldwin, James Earl Jones, screenwriter Larry Ferguson and producer Mace Neufeld. A theatrical trailer will also be included.
"Patriot Games" will include the featurette "Patriot Games Up Close" with new cast and crew interviews of Harrison Ford, Anne Archer, James Earl Jones, producer Mace Neufeld, director Phillip Noyce, associate producer Lis Kern and screenplay writer W. Peter Iliff as well as a theatrical trailer.
"Clear and Present Danger" will also include a theatrical trailer and the featurette "Behind the Danger" with new cast and crew interviews with Harrison Ford, Anne Archer, James Earl Jones, Henry Czerny, Miguel Sandoval, Joaquim de Almeida, Donald Moffatt, producer Mace Neufeld and director Phillip Noyce.
In addition to the three titles, the existing DVD of The Sum of All Fears will also be included in the set. The box set, as well as individual releases of the discs will come on May 6th, each title will be priced individually at $19.99.