Farewell to Mister Rogers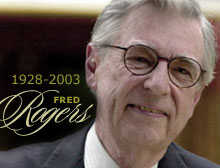 As many of you may already know, Fred McFeely Rogers, better known as "Mister Rogers" has passed away yesterday at the age of 74. "Mister Rogers' Neighborhood" has been an institution on public television for almost 40 years and his loss is certainly filling everyone with grief. His soothing voice, his slow-paced yet highly educational program and the warm kindness that he has brought American homes for generations has been and will remain a cornerstone for all children's television programming to measure up. Every day he was on his mission to teach children around the country values that are important for life in our society. He was one of the truly unspoiled characters ever to grace the screen with his honesty and timeless forthrightness.
Mister Rogers will be sorely missed and everyone who grew up being his television neighbor should take a minute to remember this man. May that trolley take him safely to Heaven.