DVD Review's 2003 Guide To DVD Easter Eggs is here!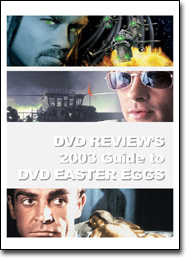 Many of you have asked us before if we could make the Easter Eggs in our hidden features section available for printing and offline reading. Today we are happy to present to you DVD Review's 2003 Guide To DVD Easter Eggs, an eBook containing a wealth of hidden features found on region 1 DVD releases with detailed descriptions how to get to them, as well as screenshots of many of the Easter Egg highlights.
eBooks are laid out exactly as their print counterparts but are distributed electronically and optimized to be read on computer screens. Using Acrobat eBook Reader, you can now browse through these listings at your own leisure without having to be online. What's even better is that you can add your own comments to any of these Easter Eggs as annotations in the eBook, and of course, you can print out these hidden features in high quality directly from the eBook. That way you can easily store them inside your favorite DVD's cases for future reference. EBook Reader is available for free for many platforms, including your Windows desktop PC, Macintosh, and laptop computers.
For only $9.95 you can buy and immediately download your copy of this exciting eBook that covers over 1500 Easter Eggs on over 500 DVDs. We have even added a few new, previously unpublished Easter Eggs in the book to make sure you will get the chance to discover some unexplored hidden features.
By buying this new eBook you also support DVD Review directly making sure we will be able to continue our mission of being the premier source for DVD Easter Eggs.
Please click here for more information and your chance to buy DVD Review's 2003 Guide To DVD Easter Eggs.