Dawson's Creek season one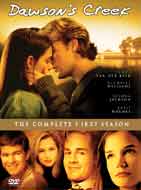 It is a show that has helped build the fledgling WB Network and now just as the show is being cancelled, the first season of the teen drama Dawson's Creek is making its way to DVD from Columbia TriStar Home Entertainment.
Dawson's Creek chronicles four teenagers through the undeniably intense period of awakening known as the teenage years. At the center of the series are 15-year-olds Dawson Lerry, an introspective dreamer and aspiring filmmaker, and Joey Potter, a precocious tomboy unaware of her beauty. Best friends since childhood, they are about to enter that confusing time in life when hormones start raging and where nothing
is the way it was or, as it seems. Add to the mix their friend Pacey and the new girl in town, Jennifer, and you can count on extra twists to the drama in their already turbulent and changing lives.
All thirteen episodes of the first season will be presented on three discs in fullscreen. Features include an audio commentary from Kevin Williamson and executive producer Paul Stupin, a retrospective featurette "Dawson's Creek: From Day One", a season one time capsule and a link to the Official Dawson's Creek Website.
Priced at $39.95, the first season will come home on February 27th.