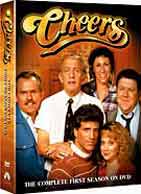 Cheers and Frasier, two of the most popular series in NBC history have held strong for the last twenty years of television and will forever be intertwined. Now both series will get released in season box sets from Paramount Home Entertainment.
The first season of Cheers airing from October 1982 through March 1983 saw some of the worst ratings on television. The day to day life of the residents of a Boston bar seemed of little interest to viewers, but the show held on to get renewed for a second season which saw the show become a national hit.
All twenty-two episodes are included in the set in their original fullscreen and include the featurettes "Setting The Bar: A Conversation with Ted Danson," "Love At First Fight: Opposites Distract" and "Coach Ernie Pantusso's Rules of the Game," some "I'll Drink To That: Stormin' Norm-isms," and the trivia game "It's A Little Known Fact…".
After ten successful years on Cheers, Kelsey Grammer struck out on his own in Frasier. The 1993-1994 season saw the Boston psychologist move back to his hometown of Seattle only to learn to deal with his family all over again.
The twenty-four episodes of the first season are included in their original fullscreen, and several extras including an audio commentary on the pilot episode by Peter Casey and David Lee, the featurettes "Behind The Couch: The Making Of Frasier" and "Frasier Crane's Apartment," and a trivia game.
Both sets will come to DVD on May 20th and will be priced at $49.95 each.