A Generation's Final Journey comes to DVD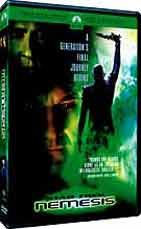 The tenth and most recent Star Trek film Star Trek Nemesis is making its way to DVD as a special edition from Paramount Home Entertainment this May.
Captain Jean-Luc Picard and the Enterprise-E crew find themselves on a diplomatic mission to initiate peace with the Romulans. Learning that the Romulans have undergone a political upheaval and their new Praetor, Shinzon, wants to discuss a peace treaty with the Federation, Picard and his crew must investigate the situation and determine Shinzon's sincerity. But they learn that not only is the new Praetor not a Romulan at all but a native of Romulus' sister planet Remus, they also find that he is a human replica of Picard, originally bio-engineered by the Romulans to be substituted for the captain as a weapon against the Federation. Now, Picard and his crew must determine if the Romulans truly desire a peace treaty, or if they have other plans in mind.
The film will be available in both fullscreen and anamorphic widescreen (a first for Trek DVDs) and carry sound in Dolby Digital 5.1 as well as English and French Dolby 2.0 Surround. Extras include seven deleted scenes an audio commentary by director Stuart Baird, four brand-new featurettes titled "New Frontiers: Stuart Baird on Directing Nemesis," "A Bold Vision of the Final Frontier," "A Star Trek Family's Final Journey" and "Red Alert! Shooting the Action of Nemesis" and a photo gallery. Oddly no theatrical trailer is mentioned.
Arriving on May 20th, the final voyage of Picard and the gang will arrive with a suggested retail price of $29.95.