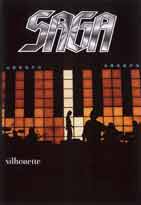 The Canadian progressive band Saga has survived 25 years in the music business, no small feat in such a fickle industry. SPV Records will help the band celebrate with Silhouette a DVD celbration of the band's history.
Ten music videos with remastered sound are featured: "Don't Be Late, " "Careful Where You Step," "On the Loose," "Amnesia," "Wind Him Up (Mix)," "Catwalk," "Flyer," "What Do I Know," "Always There" (previously unreleased and created specifically for Saga's 25th anniversary) and "Money Talks.". Also included are 10 live songs; "The Perfectionist," "Compromise," "Ice Nice," "Times Up," "Scratching the Surface," "Don't Be Late" and "You're Not Alone" were filmed on the "Heads or Tales" tour and "It's Time," "Humble Stance" and "Intermission" are bootleg videos shot in the United Kingdom. Extensive interviews with all five members were conducted over period of five months in four different countries in 2002, and the entire history of Saga is covered.
The DVD is actually set for release this Tuesday, February 4th.