The Muppet Show comes back for more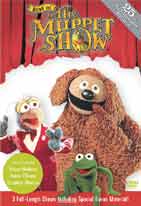 While season sets still seem like a distant dream, two more volumes of The Muppet Show are coming to DVD, each with some of the show's more memorable guest stars.
In the first volume, Harry Belafonte, the Calypso legend performs his classic hit "Day-O," tries to out-drum Animal, and joins a chorus of African-masked chanters for his uplifting "Turn the World Around." Linda Ronstadt battles Miss Piggy for Kermit's affections, in between performing some of her smash hits – including "Blue Bayou" and "When I Grow Too Old to Dream." And John Denverorganizes a camping trip, watches his garden grow "Inch by Inch," give Gonzo some helpful advice, and joins the cast in "Grandma's Feather Bed.".
The second volume features the chameleaon-like Peter Sellers as he turns into a demented gypsy violinist, plays a very strange doctor on "Veterinarians' Hospital," and joins a temperance band. John Cleese portrays a befuddled pirate bent
on capturing the cast of Pigs in Space, helps Gonzo shape up, and reluctantly sings
"The Impossible Dream.". Dudley Moore demonstrates his "music and mood management apparatus" – to the dismay of the cast – and brings down the house with the Muppet jazz band.
Each volume will be presented in the show's original fullscreen and mono and will feature extra Muppetisms, Movie Mania, and clips From the Archives.
Set to arrive on March 4th, the sets will be priced at $19.95 each.