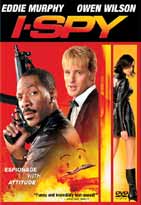 Eddie Murphy and Owen Wilson team up to recreate the adventures of I Spy. The remake will make its way to DVD in March thanks to Columbia TriStar Home Entertainment.
A super-powerful experimental spy plane is stolen by an evil arms dealer and is about to be handed over to an international terrorist. The U.S. Government drafts an egotistical boxing champion to join a very earnest, special agent on a dangerous top-secret mission to get the plane back. Armed with the latest high tech gadgets and a whole lot of attitude, this ultimate odd couple might be able to save the world – that is, if they can just get along!
In addition to a fullscreen and anamorphic widescreen transfer in Dolby Digital 5.1, the disc will contain an audio commentary and four making of featurettes; Cloak and Camouflage, Gadgets and Gizmos, Schematics and Blueprints Featurette and The Slugafest. Subtitles will also be available in English and French.
Making its mark on March 11th, the disc will be priced at $27.96 SLP.