20,000 Leagues Under the Sea surfaces on DVD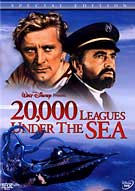 Buena Vista Home Entertainment has finally gotten around to releasing one of its few successful live-action adventure films. 20, 000 Leagues Under the Sea. Gets a special edition disc this May.
Climb aboard the Nautilus … and into a strange undersea world of spellbinding adventure! Kirk Douglas, Paul Lukas, and Peter Lorre star as shipwrecked survivors taken captive by the mysterious Captain Nemo, brilliantly portrayed by James Mason. Wavering between genius and madness, Nemo has launched a deadly crusade across the seven seas. But can the captive crew expose his evil plan before he destroys the world?
A Dolby Digital 5.1 soundtrack and an anamorphic widescreen transfer are nicely complimented by audio commentaries with director Richard Fleischer and film historian Rudy Behlmer. Several featurettes are included; "The Making Of 20,000 Leagues Under The Sea," "Jules Verne & Walt Disney – Explorers Of The Imagination," "The Humboltsquid: Real Sea Monster!", "Touring The Natuilus," "Monsters Of The Deep," "The Musical Legacy Of Paul Smith" and "Lost Treasure: The Sunset Squid Sequence". Also on the disc is are Peter Lorre's ADR tracks and the original Captain Nemo's organ music, a storyboard-to-screen comparison, unused animations, a script excerpt, the "Grand Canyonscope" animated short, the theatrical trailer, and the original 1954 theatrical radio spots.
All that will be available on May 13th with a suggested retail price of $29.95.