Warner sees The Color Purple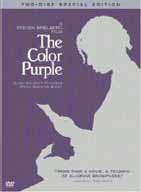 Before the Spielberg imposed blockage of the director's films on DVD a few of his films made it to DVD including The Color Purple as one of the first batch of DVDs to hit the market in 1997. Now Warner Brothers Home Entertainment is ready to revisit the film as a special edition early next year.
Alice Walker's joyous, Pulitzer Prize-winning novel about a poor black woman abused by her brutal husband, and her eventual escape to a new life. The new DVD is being labled as a director's cut and has a run time of 152 minutes.
Coming on two discs, the film will be presented in anamorphic widescreen with audio in Dolby Digital 5.1. A new documentary will be presented in several small segments including "Conversations with Ancestors: The Color Purple From Book to Screen," "A Collaboration of Spirits: Casting and Acting The Color Purple", "Cultivating a Classic: The Making of The Color Purple" and "The Color Purple: The Musical". A photo gallery and theatrical trailer will also be included.
All set for a release on February 18th, the DVD will be priced at $27.95.