Warner gets work Driving Miss Daisy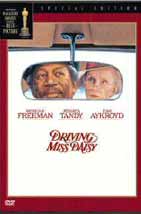 Perhaps one of the most disappointing DVD releases since the format's inception has been the pan and scan only featureless release of the 1989 Oscar Winner for Best Picture Driving Miss Daisy. Now five years later, Warner Brothers Home Entertainment is finally treating the title with some respect with a new special edition release this spring.
Hoke Colburn sits in the front seat with his hands on the steering wheel, but the driver's seat is behind him. That's where Miss Daisy sits. She doesn't want a chauffeur and she won't give in. And neither will Hoke. Based on Alfred Uhry's Pulitzer Prize winning play, it tells the story of genteel but strong-willed Southern woman Daisy Werthan and her patient but equally determined chauffeur Hoke. For two people so different, they have a lot in common. And the bumpy road they travel ultimately leads to the friendship of a lifetime.
Finally coming with not only a widescreen transfer, but an anamorphic one, the film will be presented in its original Dolby Surround 2.0 soundtrack. The disc will also feature an audio commentary with guests to be announced. Also included are documentaries, featurettes, a photo gallery and a theatrical trailer.
The disc will arrive on February 4th with a suggested retail price of $19.95.