Friends signs on for Season 3 on DVD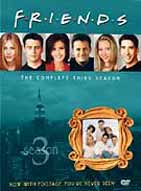 Warner Brothers Home Entertainment is getting ready for the third season of NBC's long running success Friends on DVD this Spring.
Running from 1996-1997 the third season coincided with the rising of Friends to it highest popularity. Starting with every male's Princess Leia fantasy and ending with a trip to the beach, season three of friends included many key moments from the show including the infamous line "We were on a break".
Like the previous two seasons, the sets will be presented in fullscreen and Dolby Digital 5.0 sound. Audio commentary will be included on selected episodes and the set will include the Friends Guest Book, a map of Joey and Chandler's apartment and a trivia game.
Arriving on April Fool's Day, the set will retail for $69.95.