Anchor Bay unleashes The Complete Musketeers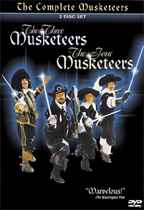 One of the great cinematic slight-of-hands was Ilya Salkind's 1973 release of The Three Musketeers. Join the Musketeers D'Artagnan (Michael York), Athos (Oliver Reed), Aramis (Richard Chamberlain), Porthos (Frank Finlay) and the stunning yet clumsy maiden Constance (Raquel Welch) as they battle for fortune, glory and vengeance against the devious Cardinal Richelieu (Charlton Heston), Milady de Winter (Faye Dunaway) and Count de Rochefort (Christopher Lee). These are the two hit movies that redefined the rousing action and riotous comedy of the swashbuckler genre for a whole new generation.
The all-star cast initially thought they were making one movie, only to discover that they had in fact made two. In 1974 the second part appeared and was titled The Four Musketeers.
On February 4, Anchor Bay entertainment will release both films, along with two behind- the-scenes documentaries covering the Salkind saga, in one comprehensive double-disc DVD release entitled The Complete Musketeers.
The films will be presented in anamorphic widescreen and as fullscreen versions on the release. The disc for "The Three Musketeers" will also include the theatrical trailer, TV Spots, Radio Spots, a Photo Gallery, "The Making Of The Musketeers" and Part One of the aforementioned documentary "The Saga Of The Musketeers."
The DVD for "The Four Musketeers" will include the same extras, and Part Two of the documentary.
"The Complete Musketeers" will be available on February 4 and carry a $34.99 suggested retail price.