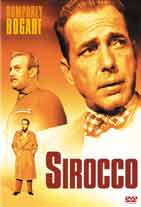 One of the few Bogart films not available on DVD, Sirocco will come to disc in early 2003 from Columbia TriStar Home Entertainment.
Set in war-torn Syria, Bogart stars as gun smuggler Harry Smith, whose daring exploits earn him a ruthless reputation. But when Smith needs safe passage from Damascus, he's forced to turn to his chief rival in love and war, French Colonel Feroud. Feroud blackmails Smith's for vital military information, but then puts his own life in Smith's hands when he is taken hostage by the Syrian underground.
Presented in its original fullscreen presentation, the disc will feature a photo gallery and something called The Bogart Collection.
Add one more Bogey title to your collection. Sirocco will street on January 21st.