Criterion visits Fear and Loathing in Las Vegas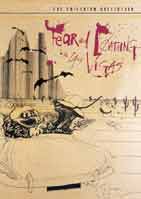 Criterion just made the unexpected announcement that the Terry Gilliam classic Fear and Loathing in Las Vegas will be getting the Criterion treatment in months to come.
"We were somewhere around Barstow when the drugs began to take hold." It is 1971, and journalist Raoul Duke barrels towards Las Vegas to cover a motorcycle race, accompanied by a trunkful of contraband and his slightly unhinged Samoan attorney, Dr. Gonzo. But what is ostensibly a cut-and-dried journalistic endeavor quickly descends into a feverish psychedelic odyssey and an excoriating dissection of the American way of life.
This will be the third collaboration between Criterion and Gilliam after the wonderful releases of Time Bandits and Brazil. The new version of Loathing will be presented in anamorphic widescreen with audio in Dolby Digital 5.1 and possibly DTS as well. Two audio commentaries will pick apart the film, the first with director Gilliam and the second with producer Laila Nabulsi and actors Johnny Depp and Benicio Del Toro. An audio interview with author Hunter S. Thompson, the BBC documentary "Fear And Loathing On The Road To Hollywood" several deleted scenes, still galleries and theatrical trailers will also be included. Finally perhaps the most interesting feature will be a selection of Hunter S. Thompson's original correspondences as read by Johnny Depp.
As with most Criterion titles, Fear and Loathing will arrive sometime in the near future, but no exact date has been set. The suggested retail price will be $39.95, and for you Criterion Collectors out there, the spine number will be 175.