The Art of Action is explored in a new documentary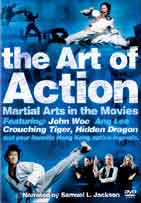 The Art of Action is explored in a new documentary
So many of the most popular films to come out of Hollywood, and even the independent scene, are of the high action genre. Now a new documentary explores the appeal of the action in The Art of Action coming to DVD from Columbia TriStar Home Entertainment.
begins by exploring the ancient ideals which form the core of the martial arts mentality, by presenting electrifying and historic clips from several silent-era movies. As an example, we discover that for years most early kung-fu film stars were female and that the trend only subsided in the mid-60`s with the advent of the "Wu-xia" movies influenced by the Samurai films of Kurosawa, Inagaki and others. The documentary artfully weaves in interviews with many famous stars of the genre such as Jackie Chan, Ying Hung, Donnie Yen, Roger Yuen, along with critically renowned directors Ang Lee and John Woo discussing themes of spiritually advanced over the years through martial arts. The documentary ultimately brings us full circle by highlighting the contributions made by some of the biggest recent films such as Charlie's Angels, Crouching Tiger, Hidden Dragon, Rush Hour 2, The Matrix and others!
Presented in fullscreen, the disc will be encoded with audio in Dolby Surround 2.0. Although there will be no features on the doc itself, theatrical trailers for many of the discussed martial arts films will be included.