Juwanna Mann arrives in November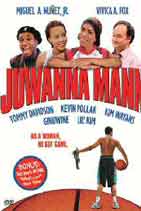 The gender bending basketball comedy Juwanna Mann will makes its DVD bow in November with a few nice special features from Warner Brothers Home Entertainment.
In a story so close to Tootsie, it's practically a remake, Jamal Jeffries is one basketball star who stirs up heat both on and off the court. This player's got game, girls and attitude to spare. But when one confrontation too many gets him booted out of the league, Jamal is gonna need a lot more than a good agent to get him back on the courts. He's gonna need brains, creative ball-handling, and just the right shade of lipstick. Jamal's only chance to get his game back is to join up with the other league- the women's basketball league. With coerced support from his reluctant agent and a heavily padded sports bra, Jamal transforms himself from the bad boy of basketball to its newest femal role model: Juwanna Mann.
Available in anamorphic widescreen, the disc will carry a Dolby Digital 5.1 soundtrack. Extra features will include additional deleted and expanded scenes, Fat Joe's music video What's Luv?, two behind the scenes featurettes, the BET special, a theatrical trailer and two audio commentaries; one with director Jesse Vaughan and star Miguel A. Nunez Jr. and the second with Tommy Davidson.
Arriving on November 19th, the DVD will have a suggested retail price of $26.98.