Final specs on Lord of the Rings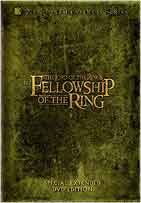 Nine members of the Fellowship, six discs, two releases, one film to rule them all. Although the well received two disc theatrical version of the sweeping Lord of the Rings: Fellowship of the Ring added some insight into the film, fans are twitching in anticipation of next months four disc extended version with enough behind the scenes information to gag a Hobbit. New Line Home Entertainment has released the final specs on the massive set.
Discs one and two will of course carry the film itself presented in anamorphic widescreen and enough audio options to leave no one disappointed. Dolby Digital 5.1 EX and DTS 6.1 ES tracks, an isolated Dolby Digital 5.1 sound effects mix, a Dolby Digital 5.1 isolated music track and four audio commentaries. The first commentary features director Peter Jackson and writers Fran Walsh and Philippa Boyens. The second features the design team of Grant Major, Ngila Dickson, Richard Taylor, Alan Lee, John Howe, Dan Hennah, Chris Hennah and Tania Rodger. Up next is the production and post-production team featuring Barrie Osborne, Mark Ordesky, Andrew Lesnie, John Gilbert, Rick Porras, Howard Shore, Jim Rygiel, Ethan Van der Ryn, Mike Hopkins, Randy Cook, Christian Rivers, Ethan Van't Hull and Alex Funke. Finally comes commentary four with the cast Elijah Wood, Ian McKellen, Liv Tyler, Sean Astin, John Rhys-Davies, Billy Boyd, Dominic Monaghan, Orlando Bloom, Christopher Lee and Sean Bean.
And that's just the film. Disc three entitled The Appendices Part I: From Book to Vision. Starting with a disc introduction by Peter Jackson, the disc will contain the featurettes J.R.R. Tolkien-Creator of Middle-earth, From Book to Script, Storyboards and Pre-vis, Designing Middle-earth, Costume Design and Weta Workshop. Several galleries will include The Enemy, The Last Alliance, Isengard, The Fellowship, Rivendell and Lothlorien. An interactive Middle-earth Atlas with timeline and a New Zealand as Middle-earth intertactive map with video are included.
Lastly, disc four entitled The Appendices Part II: From Vision to Reality also contains a disc introduction by Peter Jackson and contains the featurettes The Fellowship of the Cast, A Day in the Life of a Hobbit, Cameras in Middle-earth, Visual Effects, Editorial (with a multi-angle presentation), Digital Grading, Sound and Music, , Music for Middle-earth and The Road Goes Ever On. Also included is a sound design demo and DVD-ROM content.
New Line truly set a new precedent for DVD release. Still scheduled for release on November 12th, the set will be priced at $39.99.