Eastwood returns in Blood Work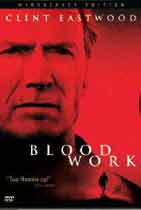 Eastwood returns in Blood Work
Clint Eastwood mixes old school crime drama with a technological edge in his newest film Blood Work. The film will make its digital premiere from Warner Brothers Home Video.
A former FBI profiler who has recently undergone a heart transplant comes out of retirement to track down the serial killer who has recently begun killing victims with the former agent's blood type.
Although the new DVD will contain the film in anamorphic widescreen with audio in Dolby Digital 5.1, no features will be included on the DVD.
Coming on the unusual Saturday release date of December 27th, the DVD will be priced at $26.98.