Dangaizer 3 Volume 2 from Right Stuf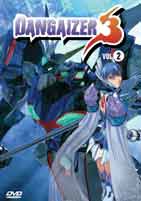 The popular anime action series Dangaizer 3 continues with the release of Volume 2 on DVD from Right Stuf Entertainment.
Hina Mitsurugi never imagined her life would end up like her favorite battle game! Even after piloting the monolithic robot Dangaizer, Hina can't seem to remember what her true purpose is or why Goma is trying to kill her. While Reika and Cindy struggle to restore her broken memories, Goma is targeting Neo Hong Kong for the next stage in their diabolical plans of destruction. When the three pilots knowingly rush headlong into a trap, the stakes have been raised! There's a new player in the game – Eileen, the Angel of Destruction! Her close resemblance to Hina could contain the answers to her mysterious memory lapse. But why is she so determined to destroy Dangaizer?
Episodes 3 and 4 are included in Dolby Surround 2.0 in both English and Japanese. Extras include an art gallery.
Priced at $24.95, the set will be available to own on January 21st.