Columbia TriStar reveals My Wife is an Actress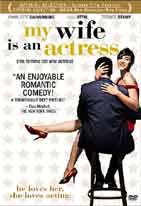 Still making its rounds at the art house theatres, the French romantic comedy Ma Femme Est Une Actrice, better known as My Wife is an Actress will make its DVD debut in December.
Successful sportswriter Yvan and popular film star Charlotte enjoy a glamorous, sophisticated lifestyle in Paris. But when Charlotte relocates to London to star in a sexy movie opposite legendary ladies' man John, Yvan panics and travels back and forth from Paris to London to check on his wife. Even he can't prevent Charlotte from shooting a very intimate scene with her new leading man. Is Charlotte about to have an affaire, or is she just acting?
The disc will contain the film in its original French audio with optional English subtitles. An anamorphic widescreen presentation will be supplemented with a director's commentary, making-of featurette, deleted scenes and theatrical trailers.
With a release date of December 10th, the film will likely leave theatres before its DVD release, allowing a new wave of audience to experience the film. The suggested list price on the disc is $29.95.