Columbia TriStar lathers up Shampoo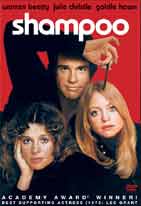 1975 was a great year for film, but an altogether far too serious year. The refreshing exception to that rule was the sexually charged comedy Shampoo which will finally be making its DVD debut in January from Columbia TriStar Home Entertainment.
Wicked social satire about a sexy male hairdresser that does more than hair. Warren Beatty lampoons his own womanizer reputation in this feature concerned only with who is "doing" who and the superficial appearances of the upper class of Beverly Hills set against election day for the 1968 Presidential election.
Anamorphic widescreen and fullscreen transfers will both be available on the disc with audio in English and French. No features will be included.
Get ready, Shampoo will be available on January 21st.