Stuart Little 2 is on the way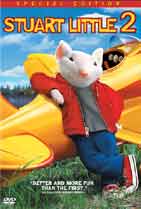 Despite the multiple and slightly confusing releases of the original film, it looks like Columbia TriStar Home Entertainment has decided on only one release for Stuart Little 2 when it premieres on DVD this fall.
Two years have passed since we last visited the Little family and much has changed. Stuart has blossomed and settled nicely into his new life. In addition to his big brother George, Stuart now has a new baby sister, Martha. Even Snowbell, the curmudgeonly cat with an attitude, has warmed up to Stuart in his own way. Yearning for a friend of his own – someone like him, Stuart haphazardly saves an injured bird, Margalo. When Stuart learns that Margalo doesn't have a place to live, he insists that she stay with him and the Littles. When she mysteriously vanishes, Stuart and Snowbell set out on a heart-pounding journey to find her in New York City and unlock the mystery.
Presented in both anamorphic widescreen and fullscreen on the same release, versus multiple releases, the DVD will feature a Dolby Digital 5.1 audio track as well as several features including the "Show and Tell" interactive game, the featurettes "A Touch of Evil" and "Life in the Fast Lane", a Read-a-Long, the "Circle of Friends" game, an audio commentary, the Celine Dion music video, theatrical trailers, filmographies and some DVD ROM content.
Coming on the 10th of December, the disc will have a suggested list price of $27.95. The DVD will also be put in a box set with the so-called Deluxe Edition of the first film (only available in fullscreen). The box set will retail for $42.95.