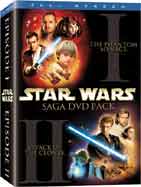 Twentieth Century Fox Home Entertainment has decided that three Star Wars related releases in November weren't quite enough. In addition to the fullscreen and widescreen versions of Attack of the Clones and a fullscreen version of Phantom Menace, the company will also release a bundled two pack containing both films on the same date.
Unfortunately very little information on this set is available including whether the set will contain all four discs including features or only the two discs containing the films. Also unknown is whether the set will be available in widescreen or only in.
The set will arrive on November 12th with a suggested retail price to be announced.