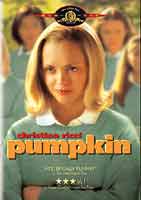 Pumpkin comes from MGM
After a quiet theatrical release, Pumpkin is coming to DVD soon from MGM Home Entertainment.
Sexy Carolyn McDuffy has a perfect life – a good family, a top sorority and a hot boyfriend – until she meets the "not-so-perfect" Pumpkin, a "challenged" discus thrower who touches her soul and turns her life upside down. Suddenly smitten, Carolyn finds herself embroiled in a culture clash that will make you laugh as you follow her hysterical journey from popular insider…to ostracized outcast.
Although the DVD will contain the film in both anamorphic widescreen and fullscreen with Dolby Digital 5.1 sound, the only supplement is a theatrical trailer.
Look out for Pumpkin November 5th for $26.98.