Lilo & Stitch get the full special edition treatment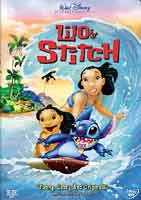 More details have come in on the latest entry in the Disney animated franchise. Lilo & Stitch will be given a fairly full, if slightly kiddie-oriented set of special features when it arrives this holiday season from Buena Vista Home Entertainment.
"Lilo and Stitch" tells a captivating tale of a young girl's close encounter with the galaxy's most wanted extraterrestrial. Lilo is a lonely Hawaiian girl who adopts a small ugly "dog, " whom she names Stitch. Stitch would be the perfect pet if he weren't in reality a genetic experiment who has escaped from an alien planet and crash-landed on Earth. Through her love, faith and unwavering devotion to "ohana" (the Hawaiian concept of family), Lilo helps unlock Stitch's heart and gives him the one thing he was never designed to have – the ability to care for someone else.
Dolby Digital 5.1 sound and an anamorphic widescreen presentation of the 1.66:1 film will be accompanied by several features, mostly aimed at the younger set. Listed features include "Burning Love" a behind the scenes featurette with Wynonna, deleted scenes, the A*Teens music video "I Can't Help Falling In Love With You", the mocumentary A Stitch In Time following the fictional history of Stitch through the Disney years with appearances in such classics as "Pinocchio," "The Jungle Book," and "Lady And The Tramp.", a how-to-hula lesson, trailers, DisneyPedia: Hawaii – Explore the Hawaiian Islands with your hosts Lilo and Nani, a special featurette on animating The Hula, The Young Voices Of Hawaii: A behind-the-scenes featurette aimed at the music of Lilo & Stitch performed by Kamehameha Schools Children's Chorus, On Location With the Directors, and the Build An Alien Experiment set-top game.
All that for a suggested retail price of $29.99. The DVD will be available on December 3rd of this year.