Warner explores The Divine Secrets of the Ya-Ya Sisterhood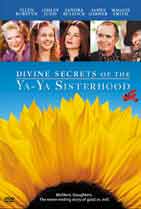 There are no explosions in The Divine Secrets of the Ya-Ya Sisterhood. There are no aliens, and there are no superheroes. But despite all this, the film was a huge success in the summertime, which is usually reserved for more action-oriented fare. Now Warner Brothers Home Entertainment is preparing two DVDs of the film to be released in the coming months.
Sidda Lee Walker, a prominent young playwright living in New York City, is a long way from her Louisiana hometown and a nice safe distance from her loving but highly dramatic and eccentric mother, Vivi. And that's the way she'd like to keep it. When a Time Magazine profile on Sidda implies that Vivi was not a good mother, Vivi is outraged and the two women get into a fight that threatens to destroy not only their relationship but Sidda's tenuous wedding plans with a man who has waited seven years for her to get over her fear of raising a family of her own. Enter the Ya-Ya Sisterhood….Vivi's intrepid gang of lifelong friends, eager to restore peace no matter what it takes.
Warner will be releasing two versions of the film in what is becoming a ever increasing trend; an anamorphic widescreen version of the film, and a fullscreen version of the film. Both versions will contain Dolby Digital 5.1 audio tracks and will contain the same features which include a fairly packed audio commentary with director Callie Khouri, executive producer Lisa Stewart, producer Bonnie Bruckheimer, producer Hunt Lowry and star Ashley Judd, the HBO making of featurette, deleted scenes, a music video and a theatrical trailer.
With a suggested retail price of $26.95, the Secrets will be revealed on November 5th.