Phantom Menace gets panned… and scanned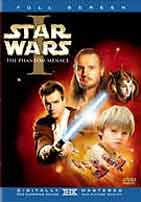 When "Attack of the Clones", the latest chapter in the Star Wars series comes to DVD in both widescreen and fullscreen in November, Twentieth Century Fox Home Entertainment will release a new fullscreen version of the first installment, Star Wars Episode I: The Phantom Menace to supplement the existing widescreen release.
Aside from the new aspect ratio, all features and audio options will be identical to the current release of "The Phantom Menace", which is not scheduled to go out of print. The new DVDs will be available in November.