New releases from Columbia TriStar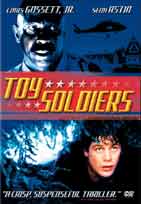 Two films from the Columbia TriStar Home Entertainment wine cellar are being brought out. Vintage 1991. The two early 90's hits Return to the Blue Lagoon and Toy Soldiers are coming in November.
The sequel to the 1980 hit The Blue Lagoon starring Brooke Shields, Return to the Blue Lagoon stars Milla Jovovich and Brian Krause as children stranded on a beautiful but dangerous South Pacific island. As their time on the island turns into years, the pair experiences blissful young love until a dangerous crew from a passing ship threatens their paradise.
If Speed was "Die Hard on a Bus", Toy Soldiers is "Die Hard in a boarding school". The film stars Sean Astin and Will Wheaton as rebellious teenagers who must use their brains and brawn, to save their fellow classmates when their exclusive boarding school is taken hostage by terrorists.
Both films are presented only in fullscreen and with no features other than theatrical trailers.
The films will be priced at $19.95 and will be released on November 5th.