More Walt Disney Treasures coming this fall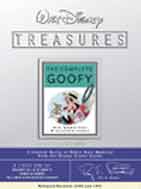 More Walt Disney Treasures coming this fall
Although best known for their classic animated features, Buena Vista Home Entertainment has hundreds of hours of classic cartoon shorts dating back to the 1930s. After a successful and popular set of collections last year, the Mouse House is planning three more additions to their Walt Disney Treasures Line. The Complete Goofy, Mickey Mouse in Black and White and Behind the Scenes at the Walt Disney Studios all join the already excellent lineup.
With a gentle, childlike innocence, Goofy has delighted audiences for 70 years. For the first time ever, celebrate Walt Disney's lumbering, lovable, and eternally loyal everyman in this retrospective of his classic animated shorts and enjoy the heydey of one of the most popular characters in cartoon history. Unlike the rest of Disney's "mouse pack," Goofy didn't become a major movie star overnight. This compilation of shorts begins with the Goof's first starring role.
All of the shorts are presented in their original video and audio presentations. An introduction by film historian Leonard Maltin kicks off the disc which also includes animator Art Babbitt's original descriptive reference of all things Goofy, information on the original voice of Goofy, Pinto Colvig and an exclusive interview with the current voice of Goofy, Bill Farmer. Theatrical posters and a gallery of Goofy memorabilia are also included.
In "Mickey Mouse in Black and White", witness the birth of an American icon. This historic compilation chronicles Mickey Mouse's early career, from his landmark debut in 1928's "Steamboat Willie" to the last of his black-and-white shorts, "Mickey's Service Station," in 1935.
Also featuring a Maltin introduction, the disc features exclusive interviews with famed animators Frank Thomas and Ollie Johnst on. Rare pencil tests and other earlier visualizations of the Mouse.
Finally, in "Behind the Scenes at the Walt Disney Studios", Go behind the walls as Walt invites you inside the world's most famous magic factory. It's not every day you'll learn tricks of the trade and satisfy your curiosity about what happens behind the scenes at the most creative bastion of family entertainment. Walt was always eager to share his secrets. In this collection you'll experience the art of classic animation, discover how your favorite animated films are created, how your favorite characters are brought to life, and you'll rediscover the 1941 feature, "The Reluctant Dragon." It's a unique and fascinating tour around the Disney studio lot that begins in 1937 and ends today.
Since this third disc is not a series of shorts like the first two discs, the interviews and galleries will be incorporated into the feature, and not included as separate features, but Leonard Maltin will again provide insight into the feature with one of his introductions which have given a uniformity and professional edge to all recent classic Disney releases.
All three titles are due to hit shelves on December 3rd of this year, just in time to make excellent Christmas gifts.