More Hammer horror on the way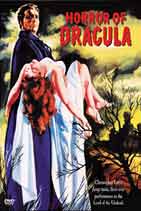 Hammer and horror films have a proud tradition. Two more titles are about to hit DVD this fall. Horror of Dracula and The Curse of Frankenstein.
In "Horror of Dracula", Jonathan Harker, a student of vampires, ventures to Dracula's castle and attacks him. The revengeful vampire leaves his dark abode to prey on the family of his attacker's fiancee. The only man able to protect Harker and his fiancee is Dr. Van Helsing, a friend of Harker's. As a fellow-student of vampires, he's determined to destroy Dracula.
"The Curse of Frankenstein" is a retelling of the classic tale of Frankenstien. In this version, Baron Victor Frankenstein becomes friends with one of his teachers, Paul Krempe. At first, both men are fascinated by the potential of their experiments. Together, they manage to bring a dog back to life. Eventually Krempe refuses to help with Frankenstien's human experiments. But he is drawn into the plot when Frankenstein's creature kills a member of the house staff.
Both films will be presented in their original widescreen aspect ratio in anamorphic DVD transfers, and will include both cast and crew filmographies and theatrical trailers.
Arriving on October 1st, to kick off the Halloween month, both titles will be priced at $19.98.