Buena Vista is ready for Sorority Boys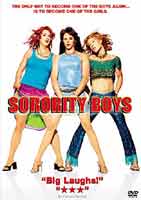 Buena Vista Home Entertainment lets the boys out in the latest in the long tradition of "guys dressing up like girls to fool them, but learning an important lesson along the way" films when Sorority Boys comes to DVD this October.
When three rowdy guys get booted from their frat house, they dress up as women and pledge the "ugly girl" sorority, where they figure they'll blend right in. In their new environment, the men face the challenges of posing as women and find themselves in some hilarious fish-out-of-water situations. In the end, though, the "sensitized" guys ease their frat mentality and realize how hurtful they have been to women over the years.
Announced as having a fullscreen only aspect ratio, the disc will include the featurettes "Boy Will Be Girls" and "All the Angles" and a theatrical trailer.
October 15th is the date. The DVD will carry a $29.99 price tag.