A DVD Special Edition is coming at High Noon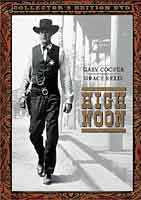 After much speculation, Artisan Home Entertainment is preparing a special edition release of the genre defining western High Noon in time for the film's 50th Anniversary.
Gary Cooper won the Oscar for Best Actor in this classic tale of a lawman who stands alone to defend a town of righteous cowards in the greatest showdown in the history of cinema. Prodcued by the late Stanley Kramer and directed by Fred Zinneman, "High Noon" forever changed the western with its many shades of grey.
Presented in its original fullscreen and stereo, this new edition will contain an audio commentary with Maria Cooper Janis, Jonathan Foreman, Tim Zinnemann, John Ritter and David Crosby, "The Making of High Noon" featurette hosted by Leonard Maltin, the "Behind High Noon" documentary, a trailer and production stills.
The new DVD will arrive on October 22nd with a suggested retail price of only $19.98.