Vanya on 42nd Street comes to DVD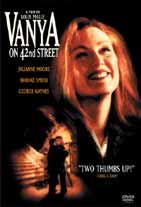 Columbia TriStar Home Entertainment is not always the champion of the small independent film, but the Independent Film Channel favorite Vanya on 42nd Street will make its debut this fall.
Wallace Shawn and Julianne Moore head an extraordinary ensemble cast in a striking adaptation of Chekhov's drama of people trapped between reality and longing. With a framework written by David Mamet, Vanya craftily puts the audience in an old theatre during a rehersal of Chekhov's most respected piece of stagework. The casual atmosphere brings the movie audience into the dense world of Chekhov and soon the viewer looks past the lack of costumes or props to see the true power of the story.
Sadly, though not unexpectedly, lacking in any from of extras save for a theatrical trailer, "Vanya" is presented in anamorphic widescreen and carries a Dolby Surround 2.0 soundtrack.
Although no price has been set, the disc will arrive on September 24th.