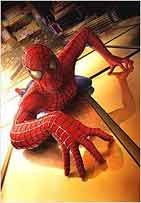 Official word has come in from Columbia TriStar Home Entertainment on the highly anticipated Spider-Man which is still turning a respectable profit at the theaters. The web slinger will come to DVD at the beginning of November with three separate releases.
Spider-Man centers on student Peter Parker (Tobey Maguire) who, after being bitten by a genetically-altered spider, gains superhuman strength and the spider-like ability to cling to any surface. He vows to use his abilities to fight crime, coming to understand the words of his beloved Uncle Ben: "With great power comes great responsibility."
And with great responsibility comes great DVDs. Columbia TriStar is releasing the film with three releases aimed at three different audiences. But don't worry, the features remain the same across the board, so no one will have to buy multiple copies. Two versions of the DVD will be made with either an anamorphic widescreen transfer or a fullscreen transfer. A Deluxe Collector's Gift Set will include the widescreen version of the film as well as some extra goodies including a comic book reprint of "Amazing Fantasy" #15 in which Spider-Man made his world debut. The remaining features on all three versions remain the same including Dolby Digital 5.1 in English and French, subtitled factoids, two audio commentaries, the first with director Sam Raimi, producers Laura Ziskin and Grant Curtis and actress Kirsten Dunst, the second with special effects designer John Dykstra and the visual effects crew, plus branching web-i-sodes, theatrical trailers, TV Spots, filmographies, character files,the music videos "Hero" and "What We're All About" and some extensive DVD-ROM content including a comic to feature comparison, commentary recorder and the Countdown to Spider-Man 2. And that's just disc one. Disc two contains the HBO Making of Spider-Man featurette, the E! Channel special "Spider-Mania", profiles on Sam Raimi and composer Danny Elfman,
screen tests for actors Tobey Maguire and J.K. Simmons plus the CGI Spider-Man costume and makeup tests, a gag/outtake reel, a conceptual art and production design gallery, the historical documentary – Spider-Man: The Mythology of the 21st Century, a Spider-Man comic book archives, a rogues gallery, The Loves of Peter Parker, a comic book artist pin-up gallery and hints and tips for the Activision game, which will help users with the playable DVD-ROM demo of the game for PC. Other ROM content includes three exclusive Marvel dot.comics and a Spider-Man: Visualizer.
All those features should keep the average web-head busy until the sequel pops up in theatres in a year or two. The discs will surface in stores on November 1st.